Advertisement

January month column by Jaishankar Jayaramiah, Editor, Automotive Lead magazine. 
My Dear Readers,
The New Year 2018 will see many more innovations in the connected vehicle segment following many OEMs getting in to the smart mobility sector.
The automotive industry will not be known as the Mechanical or Mechatronics sector anymore as it has already taken a new shape involving Internet of Things. The current buzzwords in the auto industry are Autonomous Vehicle, Machine Learning, Artificial Intelligence, Big Data Analytics,  Digital Car, Navigation, E-Mobility,  Vehicle2Infrastructure, Vehicle2Vehicle & ADAS. All above buzzwords are likely to emerge as major sectors in the current year as the global auto industry has been moving towards Intelligent transport system.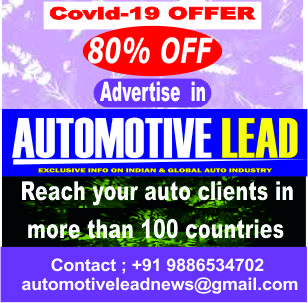 A report by MarketandMarkets says the size of Artificial Intelligence (AI) in  Transportation is expected to grow from $ 1.21 billion in 2017 to $ 10.30 billion by 2030. The emergence of autonomous trucks and industry-wide standards such as adaptive cruise control (ACC), advanced driver assistance systems (ADAS) would trigger the growth of the AI in Transportation Market. The growing demand for safety and security has created an opportunity for OEMs to develop new and innovative AI systems that would attract customers.
Jaishankar Jayaramiah : In recent years, major developments have occurred in AI software solutions, platforms and related software development kits.
Companies such as Alphabet (US), Microsoft (US), IBM (US), and Intel (US) are among the frontrunners in the development of AI software. All these companies are acquiring or investing heavily in start-ups to maintain a strong position in the AI in Transportation Market. In March 2017, Intel acquired Mobileye (Israel) for around $ 15 billion.
Another notable sector is navigation. A report from BIS Research says the global automotive navigation system market is estimated to reach $34.56 billion by 2021. The rising traffic congestion, especially in the urban areas, and the changing consumer preferences towards automotive dashboard features are some of the key factors that are expected to drive the growth of this market. The rapid technological advancements and growing popularity of fleet tracking services are expected to increase the adoption rate of automotive navigation systems for the commercial vehicle category.
On back of this, the usage of automotive semiconductor is likely to increase at rapid pace. With notable players like NXP Semiconductors (Netherlands), Renesas Electronics . (Japan), Infineon Technologies AG (Germany), STMicroelectronics (Switzerland), Robert Bosch (Germany),Texas Instruments (U.S.), ON Semiconductor (U.S.), ROHM (Japan), Toshiba Corp. (Japan) and Analog Devices Inc. (U.S.) gearing up with new innovations, it is expected that the automotive semiconductor market to witness an interesting competition in the near future.
The MarketsandMarkets research report noted that the automotive semiconductor market is expected to reach $  48.78 billion by 2022, at a CAGR of 5.8 percent between 2016 and 2022.