Advertisement

Sigma Freudenberg NOK, a part of Germany's auto component major Freudenberg Group, involved in offering automotive sealing solutions in India. In Auto Expo Delhi 2018, its CEO

Sanjib Das

talks with

Automotive Lead's Jaishankar Jayaramiah

about future plans :
Freudenberg is present in various automotive component sectors. Can you elaborate on Sigma Freudenberg NOK?
Currently Sigma Freudenberg NOK has two factories in Mohali. The first one was started in 2000 followed by the second factory in 2013. Around 1500 people are working across these plants. Now we are setting up one more facility  in Chennai.
What are the major products produced in Mohali and who are your major customers?
Around 12-15 sealing products are being manufactured in Mohali plants. It goes to all type of vehicles. Maruti Suzuki is one of our biggest customers. Two-wheeler segment is also biggest catering sector due to its volume. We work with Tier 1 shock absorber manufacturers as our product goes to them. Our customers include Gabriel and Munjal Showa. Then we are directly supplying to Daimler, Kia, Tatas, Mahindras and even to agriculture segment.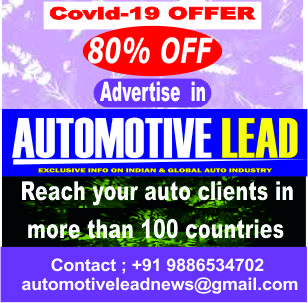 Can you tell some details on your production capacity?
We are producing around 18 million seals per month in three shifts. We are expanding our capacity by almost 20 percent in the current year because of capacity crunch and increasing demand for our products in the Indian automobile industry.
Do you export from your Mohali plants?
We do exports but a small portion of our production. Our focus is not on exports but on serving the Indian market.
What is your automotive sealing market share?
Overall market may be in the size of Rs 1300 to Rs 1500 crore including both OEM and aftermarket space. We should be roughly in the range of around 28%. Since 17 years we are also supplying to aftermarket in addition to OEM. Aftermarket requires different supply chain management. Now Corteco, an aftermarket arm of Freudenberg, is selling our products in the aftermarket segment. While importing Freudenberg products, Corteco also sell the locally produced Freudenberg products in the Indian aftermarket. Corteco commenced its operations three years ago in India.
What kind of market share you are looking in the future?
With new plant coming up in Chennai, more new offerings are coming with increased production volume too. Meanwhile the market is also growing. So we are roughly expecting to touch 35% market share. Already we have 70-100% share in some categories in the automotive sealing market.
Can you please talk about your upcoming plant in Chennai?
Now we are in Chandigarh and well penetrated in automotive segment in North India. We do business with all most all OEMs and our majority of the market share is in Northern India. Now we want our presence in Chennai too since Chennai is growing as a hot automotive hub. It will be beneficial for us in logistic and other means to serve our South India-based customers.
What will be the capacity of Chennai plant?
Initial capacity by 2019 will be in the range of 7 million units per month. Our big parts that are going to Axle and driveline will be produced in Chennai. So in value term it will match the Mohali plant production value.  We had plans to implement the second phase in 2025 but looking at the demand, we may pull it to advance.
Which are the products that you will manufacture in Chennai?
PTFE seals for engines and O-Rings. The products whatever we manufacture in Mohali will also be produced in Chennai plant. Already we are manufacturing gasket in smaller volume.  Now with Chennai plant, we will expand the gasket production.  The Chennai plant will start functioning with a workforce of around 500 people from 2019.
Can you brief about your Engine sealing solutions?
We are basically differentiated in to dynamic and static sealing. Dynamic sealing means – Engine or motor, where rotating shaft is present inside filled with oil and outside air & dust. If you don't seal it properly, oil may come out or dust may go inside and contaminate it. It should be so tight to separate. When it is rotated it generates huge heat, so the rubber can easily get wear and tear. Our products with special Freudenberg compound with rubber metal combination are being used for Engine seals.
What kind of local content you have in your  sealing products?
Apart from rubber content, every thing else is from India. Rubber we are getting from Freudenberg or from NOK respectively from Germany or Japan. Freudenberg has more than 10,000 recipes of rubber. Even after 20 years if you open the car you will not see any wear and tear of the product made out of Freudenberg's rubber. That is the Freudenberg technology.
What is your vendor base?
We have around 150 vendors spread across the country. We even have a vendor in Madurai in Tamil Nadu.
Where sealing technology division stands in Freudenberg Group's business?
If you look at Freudenberg technology, it is huge. Under Freudenberg Group, sealing technology is the oldest and largest business Group. It is again divided into nine divisions in sealing technology itself and all managed by single management team. Sigma is the minority shareholder in India. Out of those nine, we are presently covering six divisions. Globally if you see European or American OEMs,  they are catered by Freudenberg. If the OEM is from Japan, then it is supplied by NOK.
Do you have any products for E-Mobility?
There is always continuos efforts to reduce emission. E-mobility is the future. Bharat VI is coming and the government is taking various measures to reduce emission. We have products to address this sector too, which is called LESS (Low Emission Sealing Solution). This has been in Europe since past decade. Now we are bringing those products to India. We have also displayed these products in Auto Expo 2018 in Delhi. India will take some time to completely get into E-Mobility. We are waiting and watching. Whenever e-mobility picks up in India, we are ready to cater. Already we have formed a small crore team to track the market movement on that.