Advertisement

The annual budget presented by the Indian government on February 1 has many reasons for automotive industry to celebrate. An analysis by Jaishankar Jayaramiah, Editor, Automotive Lead.
The highlight of the budget relating to auto industry is that the union finance minister Nirmala Seetharaman announcing a vehicle scrappage policy, which is seen as a major boost to the Indian auto sector.
It may be noted that India has several auto manufacturing clusters viz Chennai, Bangalore, Hosur, Andhra Pradesh, NCR, Pune etc.
The Indian automotive sector has been witnessing a sales slowdown since the past two years and is down 24% as per the latest April-December 2020 data. The industry has been requesting the government to introduce a vehicle scrappage policy since long. The Medium & Heavy Commercial Vehicle (M&HCV) segment, is down 54% year on year, and will hugely benefit from such a policy.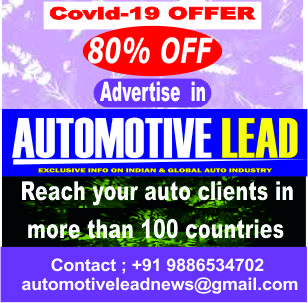 The voluntary scheme is applicable for both personal and commercial vehicles. It is applicable to 15-year-old private vehicles and 20-year-old commercial vehicles. The Finance Minister said that details of the scrappage scheme will be shared by the Ministry soon.
Scrappage drives auto growth
Old vehicle scrappage primarily eliminates old, polluting vehicles on road.  The vehicle scrappage policy is generally mandated by a government to accelerate the replacement of old, polluting vehicles by new vehicles. This policy also enables dual gains — increasing the growth of the domestic automobile industry and essentially, removing inefficient, polluting vehicles from the road, paving the way for greener motoring and cleaner air.
The budget added that both private vehicles and commercial vehicles over 15 and 20 years will have to undergo a fitness test at government-appointed automated vehicle fitness centres.
Meanwhile, Transport Minister Nitin Gadkari, speaking to the media, said that "More than 51 lakh LMVs older than 20 years & 34 lakh older than 15 years to be scrapped. Also, 17 lakh M&HCVs older than 15 years are plying without a valid fitness certificate. These one crore vehicles will be a huge enabler for new vehicle sales."
Vehicle pollution on Indian roads
An IIT Bombay multi-city study in 2014 says that pre-2005 vehicles were responsible for 70% of total pollution caused by emission from vehicles. It is fact that old heavy-duty vehicles are impacting much in smaller cities and towns and contribution of old diesel cars and two-wheelers can vary between 8-23 percent across cities.
Fleet renewal of heavy-duty vehicles based on Bharat Stage VI norms can give notable benefits. For example, an old Bharat Stage-I heavy-duty diesel vehicle has been designed to emit 35 times higher particulate matter compared to the present BS VI vehicle.
From an industry perspective, it is essential to prioritise the scrappage of old heavy-duty vehicles and replace them with BS VI vehicles.
Indirect boost
Apart from the announcement of the vehicle Scrappage Policy, the Budget 2021 also had several indirect boosters that will push growth for the automobile sector. The focus on developing infrastructure and greater outlay for public transport systems and increasing duty on auto parts in order to encourage Atmanirbhar Bharat are seen as indirect boosters to the Indian auto industry.
As for Atmanirbhar Bharat, a move in the direction has already been made with the union government's production-linked incentive (PLI) scheme that includes the automotive industry among a host of other sectors. Through this initiative, manufacturers can now pursue with their localisation plans and while reducing imports.
The government's Infra Asset Monetisation programme will now include the National Highway Authority of India (NHAI) operational toll roads with an outlay of Rs 118,101 crores for the Ministry of Road Transport and Highways.
It plans to award 8,500-km of highways by March 2022 and 11,000 km of national highway corridor will be completed. The proposed highway works in the next three years include 3,500 km corridor in Tamil Nadu, 1,100 km in Kerala, 675 km in West Bengal and 1,300 km in Assam.
Further, continued focus on building agricultural and rural infrastructure and prioritising agriculture credit growth will have long-term positive impact on rural demand for vehicles.
In a post-Covid world, the shared mobility and public transport have taken a hit. However a new scheme in the Budget launched at a cost of Rs 18000 crore to support augmentation of Public Bus Transport Services will be a major booster. Stocks of top Indian bus manufacturing companies like Tata Motors and Ashok Leyland gained 2% in intra-day trade in the Indian stock market.
The government's initiative to encourage indigenous manufacturing was further highlighted in announcements about exempting duty on steel scrap for a specified period and cutting duty on copper scrap 2.5% from 5%. Importantly in capital equipment and auto components, duty rates have been revised on certain items immediately to bring them on par.
Responding to the duties, industry observers says that increase in basic customs duty on select auto parts will encourage local manufacturing of such items. Also the Budget outlay for the MSME sector has been doubled compared to last year. It may be noted that the auto component industry is dominated by MSME.
(With inputs from Automotive Lead Research Team)
If you like this article from Automotive Lead, please feel free to share this in your social media platforms to help your contacts to understand more on this subject