Advertisement

Earlier Qualis! Now Innova. Japanese auto leader Toyota has not only registered its dominance in the Multi-purpose vehicle sector but also shows its capability in Corporate Social Responsibility (CSR) activities through its Toyota Technical Training Institute .

Writes Jaishankar Jayaramiah, Editor, Automotive Lead.
Only 64 students are selected per year.  All from rural backgrounds from various districts of Karnataka.   After they undergo three-year course in Toyota Technical Training Institute (TTTI) at Toyota Kirloskar Motor (TKM) plant in Bidadi industrial estate near Bangalore, they are perfect to work in any world-class automotive manufacturing facilities.
Skill Development
Toyota has been running its TTTI under its CSR, offering free training. While economically uplifting rural students by technically shaping them, the Japanese auto maker is also producing high-class skilled employees for the Indian auto sector.
When this Journalist entered TTTI through an organized media tour one morning recently, the students assembled at the open ground in the institute resembled an army battalion with their style of dressing and workouts. Their day starts after a small set of workouts.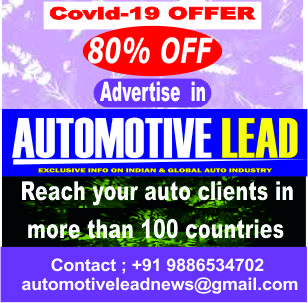 Training Curriculum
The training curriculum at TTTI is a unique blend which focuses on the holistic development of Knowledge (16%), Skill (34%), Body and Mind (50%) of the students.
The three year full-term apprentice residential training in Automobile Manufacturing has four courses namely Automobile Assembly, Automobile Weld, Automobile Paint and Mechatronics.
The selection procedure which starts soon after the SSLC result announcement  includes a written test, skill test, physical test, assessment test, interview, medical test and antecedent check.
At the completion of the training, the students receive certification from TKM. They are also provided with an opportunity  to appear for NAC (National Apprentice Certificate) exam, certification from ASDC (Automotive Skill Development Council) and certification from JIM (Japan India Institute for Manufacturing).
During the course, students will be given the opportunity to take part in various national and international competitions like National Skill Competition and World Skill Competition (Skill Olympics).
Key Achievement:
The officials who accompanied the media group said that student get an opportunity to participate in National Skill Competition and World Skill Competition (Skill Olympics) in 3 categories namely – Mechatronics, Car Painting , Prototype Modelling.
TTTI 2011 batch student secured 4th position in World Skill Competition 2015 held at Sao Paulo, Brazil and won "Medallion of Excellence". TTTI student secured 3rd position (Bronze Medal) in Prototype Modelling & Medallion of Excellence in Mechatronics in World Skill Competition 2017 held at Abu Dhabi.
According to Atsunori Komeie, Senior Managing Coordinatorof TKM Toyota Kirloskar Motor, "At Toyota, skill development has been one of our focus areas and we are working towards bridging the skill gap in the automotive sector. TTTI over the past 10 years has established itself as a center of excellence for skill development in the area of mechatronics, weld paint and assembly. "
Komeie said the students are trained on global manufacturing practices and TTTI has accordingly been selected as one of the training institutes, under Japan India Manufacturing [JIM] skill transfer promotion program. Our students have represented India in the World Skill Olympics and won accolades for the nation."
Selection Process
Interestingly the institute has received 6,000 applications from eight districts this year to take admission in TTTI.
Toyota keeps selection process very strict as to admit deserving students.The selection procedure which starts soon after the SSLC result announcement includes a written test, skill test, physical test, assessment test, interview, medical test and antecedent check.
Firstly the parents should be economically poor and cannot afford further education. He should be 10th standard pass in the first attempt with minimum 50% in Maths, Science and all subjects. He should have studied in rural school of Karnataka. Age should be within 15-17 years.
Eco Zone Park
Not only training students, Japanese auto giant also shows its responsibility in contributing to environment. It has created an Eco Zone Park covering 29 acres and planted thousands of saplings. It has also created two ponds in eco zone.
Naveen Soni, Vice President, External Affairs & CSR Division, Public Relation Division, said the eco zone park has Rain Water Harvesting Structures. It  also has a solar park with panels, producing renewable energy for the plant.
Interestingly there around 70 variety birds spotted in the eco zone. The birds include migratory ones from far away countries. The lake like ponds have water storage capacity of 54,000 cubic meters, increasing ground water level in the manufacturing facility that is covering a sprawling area of 432 acres.
Toyota's plant near Bangalore has two facilities with an annual capacity of producing 3,10,000 vehicles.  With around 6,400 employees, Toyota produces vehicles including Innova, Yaris, Fortuner, Etios, Liva & Camry at this plant.
With the company playing major role in the Indian automobile sector, we can expect more and more CSR activities from Toyota in India in the future.
This article on Toyota's CSR activities has been carried in June issue of Automotive Lead's India edition. Here's the print copy to read.
Related Read : Toyota Kirloskar wins Golden Peacock award for energy efficiency