Advertisement

The opening day of Busworld India 2018 saw launch of new Buses by Force Motors, GM Automotive, electric Buses by Goldstone and showcasing of 5 new public transport vehicles by Tata Motors.
The 8th edition of 'Busworld India', Interads Exhibition's most comprehensive International B2B exhibition exclusively for the Bus & Coach Industry, kick started to an enthusiastic response today at the Bangalore International Exhibition Centre (BIEC) in Bengaluru.
The 3 day exhibition has over 115 Exhibitors including international ones from Germany, Belgium, Turkey, China, Belarus, Korea and Austria showcasing their latest products and services.
Inaugurating the exhibition, Dr. G. Parmeshwara, Dy. Chief Minister of Karnataka, said "I am very happy that you are organising Busworld in Bengaluru. Our successive Governments have been encouraging industry here including transport industry. More than 70 lakh vehicles ply on Bangalore roads everyday and our roads were not built to take so much of traffic load. We require efficient public transport system including Buses. There is a proposal with our government to replace all buses with electric buses in about 5 years time"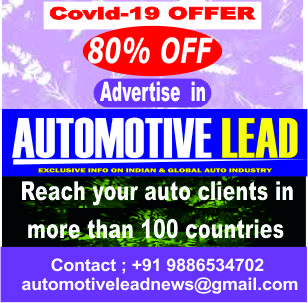 Other dignitaries who addressed the stakeholders of the Bus & Coach Industry present at the occasion were Didier Ramoundt , President, Busworld International, Mark Van de Vreken -The Consul General of the Kingdom of Belgium , Prasanna Patwardhan, President, BOCI, Rajshekhar, Chairman, BOCI, Rohit Srivastava, Vice President – Product Line, CV Passenger TATA Motors & Rajan Sharma, MD, Interads Exhibitions.
Busworld India 2018, offers an excellent opportunity for national & international bus and coach manufacturers, component manufacturers & suppliers, technology providers and market leaders to showcase their latest products, technology, services and solutions.
Tata Motors, Force Motors, MG Automotive, Oelectra BYD, MRF, Bridgestone, JTAC, Valeo Motherson & Subros Ltd., are some of the major Indian companies participating in the 3 day exhibition.
Rajan Sharma, MD, Interads Exhibitions Pvt Ltd said "We are thankful to the Government of Karnataka for all the support we received for organising the 8th edition of Busworld in Bengaluru.
We are also very happy with the response we received from the industry, as this year we see an increase of 40% in show size as compared to the last edition and expect similar growth in visitor footfall & business opportunities. Big players of the industry like Tata Motors, Force Motors, MG Automotives, Prakash Automobiles and many others have chosen Busworld 2018 to launch their latest passenger vehicles and innovations.
" Expressing full faith in this year's edition of Busworld India, Didier Ramoudt, President of Busworld International, said "The collaboration with BOCI and ASRTU is a major step ahead for Busworld in India, linking Busworld's international manufacturing and knowledge network to the Indian operators, both the privately owned companies as well as the public transport companies. We are also very proud of hosting Tata Motors for the first time in our show. So, let's create some buzz in the Indian bus industry!" The Exhibition is also supported by Industry bodies like International Centre for Automotive Technology (ICAT) and Automotive Research Association of India (ARAI).
The highlights of the Day 1 were the launch of Transport vehicles/Buses and allied products from various companies by Dr Parmeshwara at the Expo. These included –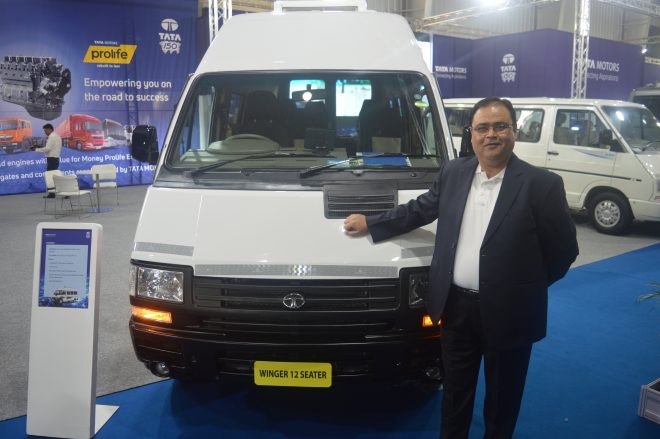 Interacting with Automotive Lead on the side lines of the event, Sandeep Kumar, Head-Sale & Marketing- CV Passenger, said the company has unveiled a few of its products in the expo, attracting huge attention of the visitors.
Tata Motors showcased five new public transport vehicles at the Busworld India 2018. Equipped with state-of-the-art technology and advanced safety features, the new range of transport solutions on display are – Starbus Ultra AC 22-Seater Push back, Starbus 12- Seater AC Maxi cab, WINGER 12-Seater, Tata 1515 MCV Staff Bus and MAGNA intercity coach.
Also, Fully electric 11 seater Maxi Cab along with a 39 seater Electric Bus was launched by Oelectra (formerly Goldstone) in collaboration with BYD ChinaK Rawal, Managing Director – Olectra Greentech Ltd. said, "Olectra-BYD has been pioneering in the Electric Public Transport System in India. The new eBuzz K6 LuXe enables us to tap the high- end customers looking for an eco-friendly and comfortable road transport option. We are proud to enable the country to adopt Electric Mobility much faster and reap the benefits of our eco-friendly Zero emission electric Buses which are also equipped to travel in any kind of terrains as present in the diverse geographies in the country.
Anand Swaroop, Chief Operating Officer, Olectra Greentech Ltd, said the company already sold 31 buses to state transport corporations of Himachal Pradesh and Mumbai Best that received overwhelming response.  Soon we will be supplying buses to Bangalore Metropolitan Transport Corporation (BMTC) too.
"We are delighted to be part of the Busworld India 2018 exhibition. At the exhibition Force Motors unveiled the new 33/41 seater Monocoque Buses. With this offering Force Motors continues with its vision of harnessing the latest technology, anticipating the changing requirements and providing the next gen mobility solutions for India" said Prasan Firodoa, MD, Force Motors.
Force Motors unveiled India's 1st 33/41 seater Monocoque Bus today at Busworld 2018, which marked its foray into 'Midibus' category. Other new vehicles on display are Traveller Rural Bus, Traveller T23350 & Traveller 26AC CNG.
MG Automotive has unveiled and launched three luxury coaches inlcuding 'Glider Seater' with 43 seats & 'Glider Z' sleeper with 30 berths based on Bharat Benz chassis. 'DreamZ' a Luxury sleeper based on Mercedes multi axle chassis was also launched.
Prakash Automobiles launched a 45+1 seater Bus called 'Prakash vega' based on Ashok Layland Chassis & a 30 berth Sleeper Coach 'Prakash Kapale' based on Bharat Benz Chassis.
Valeo Motherson launched total HVAC solution for Buses along with Electric 'Revoeng' air-conditioning unit.
The Exhibition is powered by the Association of State Road Transport Undertakings (ASRTU), the official national body of public transport operators in India & supported by Bus Operators Confederation of India (BOCI), representing the private bus and coach operators.
The Annual General Meeting (AGM) of BOCI also took place on day 1 of the Busworld India 2018 and witnessed participation by BOCI members from across India.