Advertisement

Celebrating its 10th anniversary in India, German auto technology major Continental Automotive said it will make huge investments in India in the next two years.
Although it has not disclosed the exact figures, the company said it will invest a high three-digit crore rupees level of sum within the next two years in India.
Addressing a media conference in Bangalore today, Frank Jourdan, Member of the Executive Board of Continental AG and President of the Chassis & Safety Division, who is the Country Sponsor for the Indian market within the board of Continental, said, " This sum entails the extension of capacity of all its divisions as well as greenfield investments, spanning across key automotive hubs. The company will also ramp up headcount in India, and plans to reach the 10,000 mark in two years."
Jourdan said that Continental is running eight plants in 15 locations in India, all in key auto hubs engaging 8,000 employees.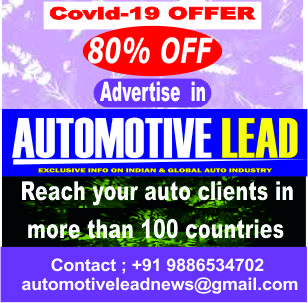 Of the latest ones, he recalled the new production and assembly lines for ECU for two-wheeler and PV ABS & ESC at Bangalore manufacturing facility in 2018, acquisition of Quantum Inventions in Kolkata along with its employees in 2017, new assembly line for ABS & ESC for PV and two-wheeler in Gurgaon plant and setting up a new office in Bangalore after acquiring Elecktrobit in 2015. He also mentioned about the plant expansion of Wheel Speed Sensor in Manesar.
"The global automotive industry is at the cusp of transformation; the largest it may have seen in its 130 year history. As a technology company we are at the forefront of innovation. This requires technological prowess, R&D focus, business agility, and adaptability".
He said the company is making investments where it matters. India is an important market and R&D hub for Continental and it is in Continental's strategy to bet big on this market. Since 2008, the company has invested close to Rs 2100 crore in India.
R&D Drive
Prashanth Doreswamy, Head of Continental India, added: "Continental has a rich legacy in
India. We have been growing steadily in terms of business volumes, manufacturing & R&D footprint and technology achievements. With competent resources and proven Continental technologies, the timely investment will propel our localizations efforts for safe, clean and intelligent mobility, for both passenger cars and two wheeler segments".
The company's in-house R&D Center –  Continental TCI is on the fast lane, ramping up headcount in several technology areas. The Indian R&D center is supporting all automotive divisions of Continental globally and is well on its way to become a center of competence for different technologies, like for Artificial Intelligence and ADAS technologies.
It is one of the Continental's 3 Systems & Technology hubs world-wide. It may be noted that currently Indian R&D head count doubled to around 3,000 employees from 1,400 in 2015.
TCI is also engaging actively with the ecosystem. Continental has recently signed a Memorandum of Understanding with Indian Institute of Technology (IIT) Madras for advanced research in Machine Learning, for Continental's Advanced Driver Assistance Systems (ADAS) business. The joint research is for the application of bio-inspired neural networks to expand the scope of what assisted driving functions can accomplish.
Industry 4.0 for future readiness
Further Doreswamy said the future-readiness is a priority consideration for the manufacturing sector. "When the industry takes giant leap driven by technology, manufacturing has to be at the same pace. Technology adoption is the key".
In view of Continental's production strategy in India, he said the company in India is upgrading to Industry 4.0 to ensure smarter, more efficient production processes and practices. Continental's Central Electronics Plant in Bangalore has just deployed the first Collaborative Robot (COBOT) to work in a human-machine team environment.
Unlike traditional industrial robots, Doresamy said the COBOT works hand in hand with operators, sharing mutual work spaces. It is intended to assist with complex and repetitive tasks, hence relieving operators to focus on more precision jobs and quality aspects of production.
"We are currently at the first phase of deployment of COBOTS. Once complete, this will be a benchmark in smart automation," he added.
Ten years of producing in India for India
The 147-year old German technology major has been present in India for close to 50 years, through technology partnerships (Continental Tires since 1974) and joint ventures for its various businesses. The first Indian independent legal entity was formed in 2008, following the acquisition of Siemens VDO globally. Today the tier 1 automotive supplier, tire manufacturer and industrial partner operates across India – with over 8000 employees across 15 locations, including eight plants that cater to the Indian market, and a Technical Center that supports Continental's global R&D activities.
Clean, safe and intelligent vehicles are the future
According to Continental, safety on the roads, comfort and convenience while driving should not be seen as luxury. The more mobile the world's population becomes, the more important it is to make this mobility clean, safe and intelligent.
"Among our areas of focus in India are safety technologies and powertrain solutions that range from the current legislative requirements to more advanced technologies, electric drives, and products that transform vehicles into digital companions. As electronic content in vehicles increases, a number of new and advanced features and technologies may be introduced by the help of Continental, which could be a game changer for the Indian auto sector", explains Doreswamy.
In addition to trendsetting technologies such as automated and autonomous driving, electrification, connected vehicles, and lightweight design, several very fundamental needs are influencing the sector, namely, digitalization, climate control, legislative requirements, sustainability, efficiency, and cost saving.
In 2017, Continental generated sales of €44 billion and its current workforce stands at  more than 243,000 people in 60 countries.
Frank Jourdan speaks to Jaishankar Jayaramiah of Automotive Lead
Can you please tell us a bit about Continental's work in automated driving area?
Today's advanced driver assistance system provide the basics for the automated driving of the future. Continental is using its full innovative prowess to drive forward this trend and developing intelligent technologies that take over more and driving functions – as long as the driver wants them to. The advantage will more safety, more convenience and more efficiency.
Global auto industry is projecting autonomous vehicle concept will become true by 2025. But considering factors like traffic, lack of infrastructure and regulations, there are practical difficulties in introducing such concepts in India in the future What is your take on it?
Yes I agree. Continental has been undertaking trials in this area in Germany and other countries. The industry is working towards autonomous vehicles. Some time it will become true. But in the countries where the fully-automated vehicles could not be introduced, the industry will look for assisted-driving automated vehicle options like involving the concepts like Advance Driver Assistance Systems (ADAS) etc.
To what extent Continental is involved in electric mobility space?
With the 'Clean Power' vision, Continental demonstrates the opportunities offered by clean mobility. The company offers vehicle manufacturers the components and systems to gradually bring tailor-made electrification to the roads. From start/stop technologies and 48 V and hybrid component, right up to systems for all-electric vehicles. Our innovative solutions not only make driving more environmentally compatible and affordable, they aslo make it more practical and fun.
Continental's 10-year Journey:
2009 : Founded Technical Center in India
Phonenix Conveyor Belts becomes fully owned subsidiary of Continental
2011 : Acquires Modi Tyres
2012 : Entry of Benecke Kaliko into the Indian market
Buys 100% shares of JV with Rico and forms Continental Automotive Brake Systems
2014: Acquires Emitec, formerly operated as a 50:50 joint venture with GKN
2015 : Acquired 100% ownership of JV with Synerject
Acquires Elektrobit, sets up office in Bangalore
2016 :  New assembly line for ABS and ESC for PV and 2-wheelers, Gurgaon plant
2017 : Plant expansion for Wheel Speed Senor, Manesar
Quantum Inventions acquisition including employees in Kolkota
2018 :  New production & assembly lines for ECU for 2-wheeler and PV ABS and ESC in Bangalore plant
JV with OSRAM, office in Bangalore