Advertisement

Daimler Buses India, a unit of Daimler Buses under the umbrella of Daimler India Commercial Vehicles (DICV), is a full-fledged bus player in the Indian market. It recorded a strong growth in 2018.

Jaishankar Jayaramiah of Automotive Lead

interacts with

Thomas Fricke

, MD, Daimler Buses India to find out their future plans.
Daimler Buses India recorded a growth of 72% to 1,555 units in 2018 in the sales of buses, luxury coaches and chassis as compared to 906 units in 2017.
Its exports too saw an increase of more than 50 percent to 616 units, up from 405 units in 2017. With this, Daimler Buses crossed the mark of 2,000 units in 2018. For 2019, the company expects to achieve further significant growth, driven both by domestic and exports business.
Thomas Fricke, Managing Director, Daimler Buses India: "2018 was another very successful year for Daimler Buses India. Within three years after our market launch, we have grown to become the fifth-largest individual market for Daimler Buses on the global scale. We remain committed to continue our sustainable growth."
Thomas Fricke further disclosed about his company plans for India while addressing a media conference in Chennai.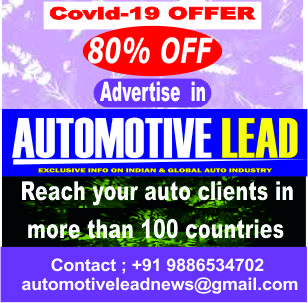 In 2019, Daimler Buses India is focusing on the preparations to upgrade its entire portfolio to the BS-VI standard, including BharatBenz 9-tonne buses in the school, staff and tourist bus sub segments, Mercedes-Benz  15-meter multi-axle luxury coaches and bus chassis for the 9, 16 and  24-tonne segments.
"BS-VI is an excellent opportunity for us to further lead the shift in India's bus market towards global standards. Our aim is clear: we want to offer the best BS-VI product package available in the Indian market," Fricke added.
Exports of Daimler Buses India, which include bus chassis for the 9 and 16 tonne segments, have reached a cumulative volume of more than 1,200 units already since the start of the business. Today, 13 markets in Africa, Latin America, the Middle East and South East Asia are being served with high-quality bus chassis made by Daimler Buses in India, and further export projects with additional growth potentials are underway.
Indian map 
Daimler Buses India is catering to the domestic market with a two fold strategy: BharatBenz front-engine buses and coaches are designed to create a new benchmark in the volume segment, while the premium segment is addressed with Mercedes-Benz rear-engine coaches. In addition, bus chassis are offered both in the domestic market and exported to markets in Africa, Latin America, the Middle East, and South East Asia. All vehicles are produced at the state-of-the-art plant in Oragadam near Chennai. Domestic customer services for both brands are provided through BharatBenz' pan-Indian dealer network, offering tailor-made service packages, 24×7 after-sales support, and advanced interactive vehicle diagnosis. Custom-tailored financing solutions are provided by Daimler Financial Services India.
Interview:
Thomas Fricke, MD, Daimler Buses India
When is your next new product launch in India?
The new launches will be planned only after the implementation of Bharat VI norms in 2020.
You witnessed 72% jump in domestic sales in 2018. Which sector or particular model that driven your sales?
We are present in all sectors with full range of products. So, our growth has been driven evenly by all sectors.
 In the current BS IV era, what is your local content and is there will be any change in the level of your local content when you start producing BS VI buses?
Currently our local content in our products is in the range of upto 95% and it will continue even during BS VI.
 How India is important market for you and what kind of growth you foresee here?
India is the second largest bus market in the world after China. The country witnessed volume of 39,900 units in 2018 while Europe recorded 30,000 units . India is 25-30% more than Europe. India is also the second largest production site for Daimler. We have full product range for India as well as are we are exporting from the country too. Our growth is steady here.
What are the immediate challenges?
Bharat VI norms will be introduced in India from the next year. The transition to BS VI norm attracts high investments. Also there could be some impact due to the central general elections. However overall our long term outlook is positive.