Prawaas 2019, one of the most definitive conferences on passenger mobility in India, witnessed more than 20,000 visitors, 150 exhibitors, 100 speakers and 5000 operators from 29 states and 7 Union Territories, writes

Jaishankar Jayaramiah, Editor, Automotive Lead
The second edition of Prawaas conducted from July 25-27 at CIDCO Convention and Exhibition Center, Navi Mumbai has also made a strong pitch for electric mobility.
Organized by Bus and Car Operators Confederation of India (BOCI), the the 3-day event brought together operators, OEMs, policymakers, thought leaders and industry captains on the same platform to redefine passenger mobility in the country.
Delivering his keynote address,  Nitin Gadkari, Indian Minister for Road Transport, Highways and Shipping Ministry of Micro, Small and Medium Enterprises, said, " As a government, we stand for simplification of processes, transparency and a corruption free system. Online registration of vehicles, one nation one permit, amendment in Motor Vehicle Act to remove education qualification criteria, subsidies for electric vehicles and providing better infrastructure like bus-ports will revolutionize public transport."
Click here to watch Central Minister Mr Nitin Gadkari's speach at Prawaas 2019
"We are committed towards the environment and believe that electric vehicles will lead the way forward. However, there are cost and infrastructure constraints which need to be considered. Biofuel made from ethanol has yielded great results in my constituency in Nagpur and we have decided to convert all our public buses to biofuel. This has not only helped the city environment and transport but has also provided an additional source of income to the farmers. The central government is committed towards better passenger mobility and we will work with state governments to realize this goal," he added.
BOCI's President Prasanna Patwardhan, , said, "It is important to shift our focus from 'Moving Vehicles' to 'Moving People'. This will depend upon how government transforms Public Transport. Leading nations have minimum 6 buses for 1000 passengers while in India it is lower than 1 Bus per 1000 passenger.
He said a single bus creates twenty direct & indirect jobs. Compared to the international norm, he said the country require at least thirty lakh more buses, which can be achieved only with increased private sector participation.
The results of these efforts will have a huge impact on GDP and will create employment for at least 50 million people in India in the next five years. Today more than 80% Public transport on Roads is provided by BOCI members with combined fleet strength of about 15 lakh buses and 11 lakh cars. There is an urgent need for the Central and State governments to accord top priority to Bus Transport and create conducive ecosystem that will bring ease of travel to 1.3 Billion People."
Click here to watch Central Minister Mr Arvind Sawant speach at Prawaas 2019
In his valedictory speech, Arvind G Sawant, Minister, heavy industries and public enterprises, said the government will give Subsidies to buses, four and two wheelers. The government has reduced the GST from 12% to 5% for electric vejicles, we have removed the cess which was 22%.
The event also witnessed some charged discussions on Accelerating Electric Mobility in the country. The session was chaired by Amit Bhat, Director of Integrated Urban Transport, WRI India and Ravi Pandit, Co-founder, Chairman and Group Chief Executive Officer, KPIT.
The speakers highlighted that electric is future mobility. There are around 130 million electric vehicles expected to hit the roads globally by 2030. In India some of the biggest constraints remain initial investment, charging infrastructure, incumbent transport system and local manufacturing and serviceability. The panel however agreed that despite challenges, India's public mobility system makeover is taking place at a rapid pace. With collaboration and collective efforts, the sector is poised for exponential growth.
During the show, Tata Motors has showcased seven new public transportation vehicles. This year, Tata Motors displayed – Magna 1623, Starbus 1212, Cityride 1515, Winger 9 seater, Compact Patient Transport Ambulance on Tata Magic, Tata Hexa SUV as well as the Ultra Electric Bus that are designed to meet exceptional comfort and safety level for drivers and passengers alike, while ensuring best-in-class drivability.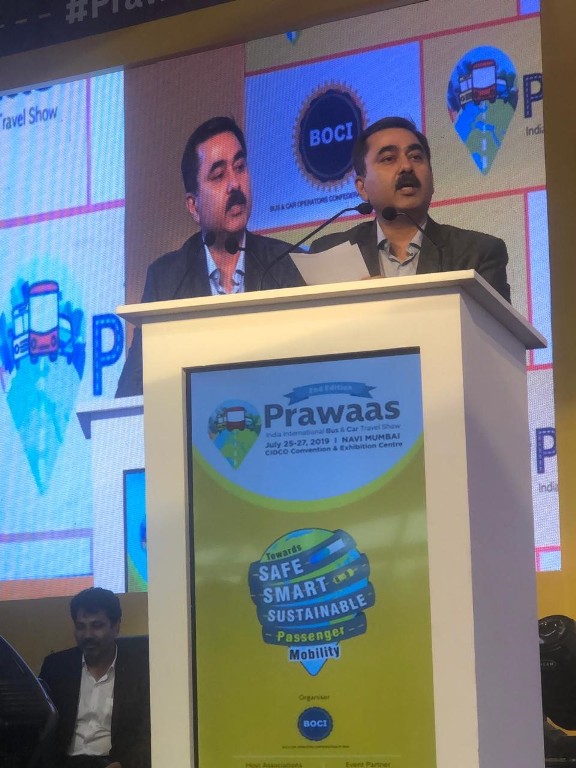 Rohit Srivastava, Vice President and Product Line Head – Passenger Commercial Vehicle, Tata Motors  said "The Buses manufactured by Tata Motors have always adhered to this increasing demand while ensuring best in class products to suit the travel requirements of passengers and drivers alike. Our priority is to provide efficient, clean and affordable value propositions to our customers without compromising on safety and the comfort levels of the passengers."
The vehicles displayed at Prawaas 2019 is a testimony of our in-depth understanding of the Indian market, he added.